Reach ANY Shot,
ANYWHERE On The Table!
Simple and elegant in function, yet tough in design, Russo Bridgeheads are made of smooth space-age plastic, that will not scratch nor mar expensive cue shafts. They eliminate cue shaft "drag", and will not wear the table cloth as conventional bridges can. They measure (4" x 2 1/2"), They're lightweight, yet of "solid construction". They carry a "Lifetime Limited Warranty." The bridgeheads eliminate risky "one in a million" shot attempts, by allowing the player to reach over one, to several obstructing balls in several configurations.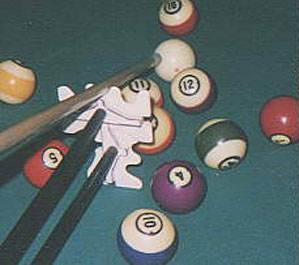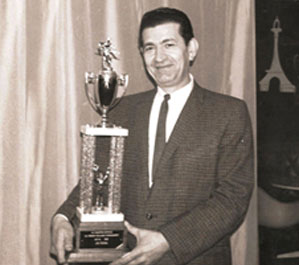 Joe Russo, winner of the 1969 and 1970 Straight Pool Division of the United States Open Tournament, has held numerous National, State, and Local championship titles.
During his 40 years of tournament play, Joe Russo learned the importance of "always having a shot"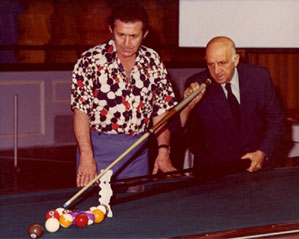 A Stackable, Four Position, Stable Bridge. What does that mean? "A unique interlocking device, that will prove its worth again and again during hard-to-reach shot attempts" "Put simply, it enables a player to shoot over obstructing balls, using a "Stable" bridge. For years, players have tried to stack "clumsy" bridges, causing "scratches", "miss cues" and "missed shots".
"No shot nor safety play is impossible if the Russo Interlocking Bridge Heads are available".
Yes, the bridgeheads are legal and used in World Class tournaments around the globe. Russo bridgeheads are stable and 100% controllable with one hand. Click where shown, at left of this page, to view professional tournament players using the bridgeheads and see what they have to say.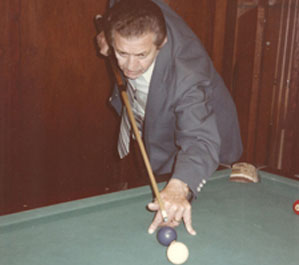 The Bridgeheads slip snugly onto the narrow end of a "Pre-Tapered" standard Billiard Cuestick, once the ivory ferrile and tip have been removed. Bridgeheads are secured to the cue by a tiny screw, which fits into a small hole on the rounded collar of each bridgehead. Tapering is accomplished by sanding down the narrow end of the cue stick, until the bridgehead slips on to it, or simply purchase the convenient RUSSO CUE STICK TAPERING TOOL. The "TAPERING TOOL" is available at a cost of $9.95 each
In addition to our standard white color, the bridgeheads are offered, in limited supply, in gold or black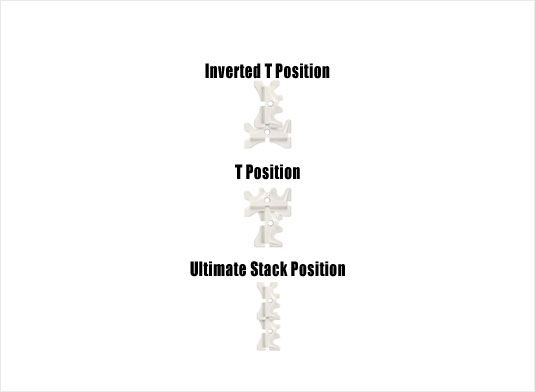 Lifetime Warranty against breakage.
For additional information: Contact the Bob Russo at (609) 209-6074
to view professionals using the bridgeheads and their comments
Click here for an article about Joe Russo